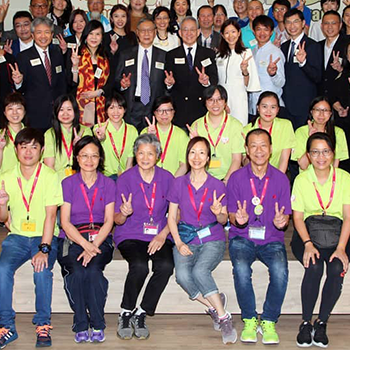 About Us
Agency for Volunteer Service ("AVS") founded in 1970, is a non profit organization with charity status mainly financed by funds from the Government of the Hong Kong Special Administrative Region, The Community Chest of Hong Kong, The Hong Kong Jockey Club Charities Trust, and public and private donations.
The 5th of December is International Volunteer Day (IVD), proclaimed by the United Nations to promote volunteerism and to encourage the public to pay tribute to volunteers in recognition of their contributions. With full support by Maxim's Group, the Agency for Volunteer Service (AVS) launched the "Thank You Volunteers Campaign" volunteer recognition programme.
The Agency for Volunteer Service ("AVS") is one of the six volunteer matching platforms collaborating with the "JC VOLUNTEER TOGETHER PLATFORM" ("JCVTP"). With the support of The Hong Kong Jockey Club Charities Trust, AVS launched a series of volunteer services to encourage those who first encounter volunteer service, whether they are families with young children, intergenerational volunteers, working adults or general public, to take an active part in volunteering. Starting today to 31 July 2024, new volunteers who participated in any service from the JC VOLUNTEER TOGETHER series and registered as members of AVS Hong Kong Community Volunteers ("HKCV"), will receive a complimentary offer of a 2-year free HKCV membership (Promotion Code: JCVT-23)
The Hong Kong Volunteer Award ("HKV-Award"), co-organized by the Home and Youth Affairs Bureau and the Agency for Volunteer Service, is dedicated to recognizing the contributions and achievements of outstanding volunteers and teams, young people, corporations, organizations from various sectors, cross-sectoral partnership projects, estates, and schools. The HKV-Award aims to inspire more people, particularly young people, people over 50, and first-time volunteers, to participate in volunteering and to unite the power of the community in building a caring and inclusive society.